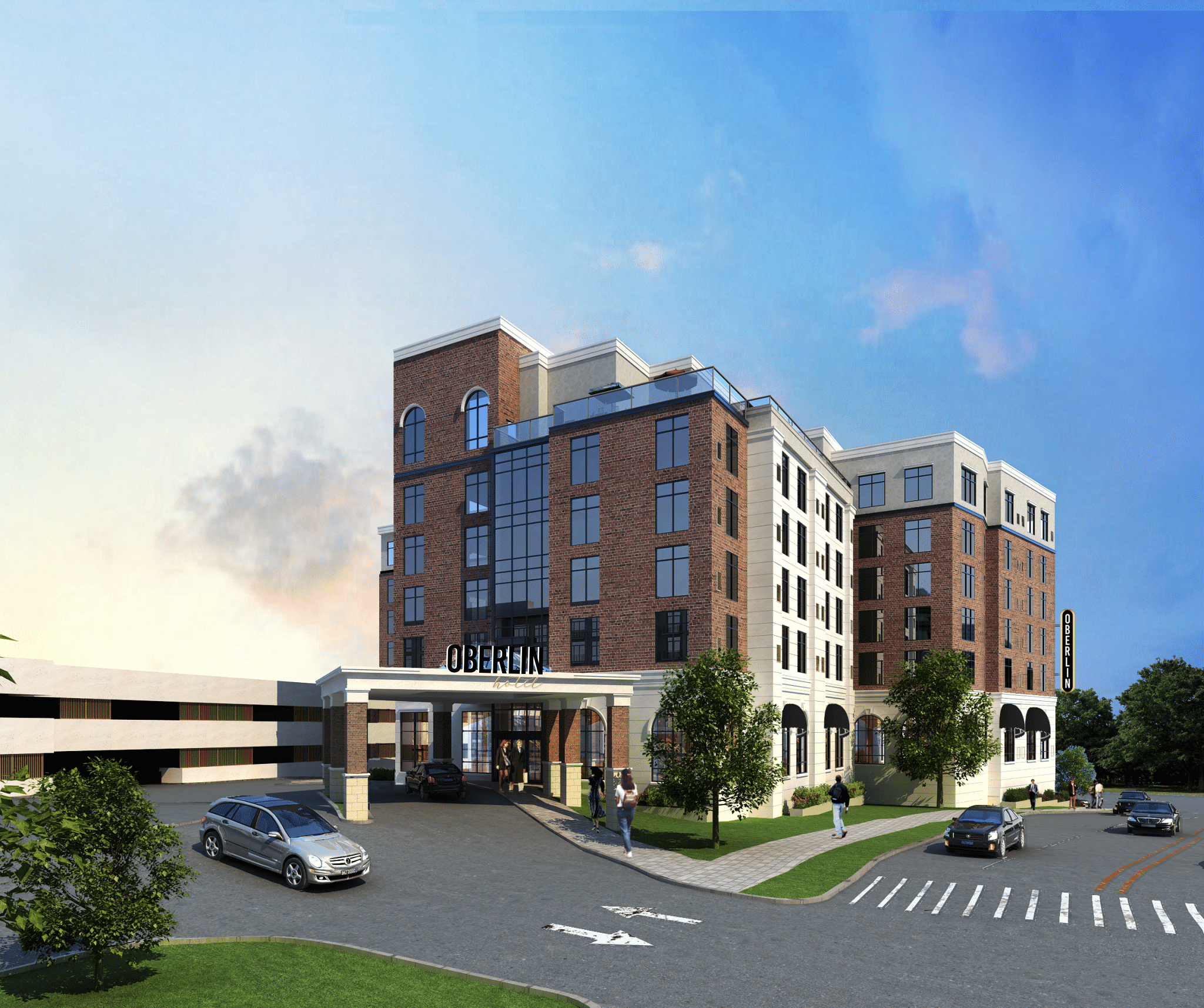 Quality Oil Company, LLC. of Winston- Salem has announced plans to construct a 115,000-square-foot upscale boutique hotel near the intersection of Woodburn Road and Cameron Street in The Village District shopping center. As part of the Curio Collection by Hilton Hotels, the Oberlin Hotel will offer 153 well-appointed guest rooms, presidential suites, and stand 7 stories high.
Starting at the lobby level, the hotel will include a market-style café serving breakfast and a spacious lounge and full cocktail bar. Just down from the main corridor, versatile meeting and banquet spaces will be able to accommodate
groups of all sizes. Outside, a large courtyard and covered patio will feature a soundstage for live music, beverage service, and catering for events. The sixth floor will feature a signature high-end restaurant and rooftop bar showcasing spectacular city views facing downtown Raleigh.
The familiar name of Oberlin is deeply rooted in the Raleigh community, dating back to the early 1860s, originating as a freedman's village, established after Emancipation. Graham Bennett, president of Quality Oil Company, says the inspiration for the hotel's name is drawn from the contributions of the brave men and women who formed the largest reconstruction-era settlement in Wake County. "These folks made a lasting impact on Raleigh and the entire country because of what they achieved, and we think this special hotel will honor them and the Oberlin name," said Bennett.
Village District is one of Raleigh's most popular spots, offering more than 100 unique shops, cafes, and services. It is conveniently located within walking distance of the central campus of NC State University and seamlessly integrated into the surrounding neighborhoods.
Winston-Salem based Quality Oil Company, a family-owned company since 1929, has numerous Quality Mart and Quality Plus gas stations in the Triangle area, a Hampton Inn & Suites near PNC arena and 8 other hotels throughout the Southeast operated by their hospitality division. Quality Oil has been recognized by the communities it serves for a long- standing heritage of integrity, honesty, and trust.
Construction on the Oberlin Hotel is set to begin this summer and take approximately two years to complete. "We are very excited to add this incredible property to our portfolio of award-winning hotels. From the amenities to the décor,
and food and beverage offerings, this hotel will provide a truly unique and memorable experience guests will come back for," said Graham Bennett.